Everyting you need, to succeed.
One location, all the services you need for health & wellness, training & recovery.
Top talent, technology & equipment provides an advanced, effective, efficient experience.

100% cooled electrically, NO cryogenic gasses used for operation.

Cold distribution and duration are controlled automatically.

Whole body is cooled evenly and efficiently and safely.

Accelerates recovery from injuries

Alleviate muscle pain, and boost athletic performance.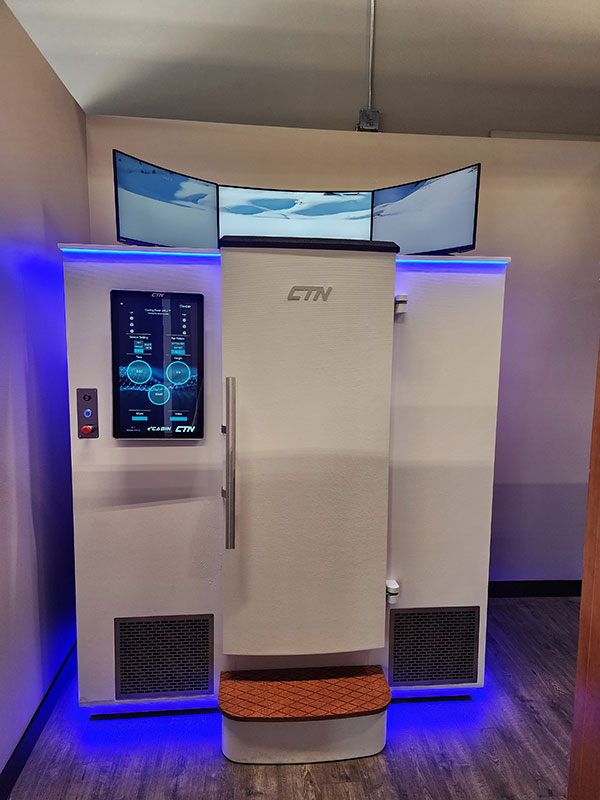 THE REVOLUTIONARY e°CABIN™ HAS ARRIVED, AND SCULPTED MD TRAINING AND RECOVERY CENTER HOSTS THE FIRST ONE IN COLORADO!
Cryotherapy is based on the rapid and controlled cooling of tissue. This increases your body's own blood circulation as well as the release of feel-good endorphins, anti-inflammatory protein norepinephrine and much more.
Full body cryotherapy is one of the best options available to improve overall wellness by way of applying deliberate cold exposure to the entire body in 1-3 minutes cycles.
Get near-instant pain relief, inflammation reduction, performance boost, mood improvement, and much more.
e°CABIN™ the world's first smart cryotherapy system, uses six sensors to measure the treatment progress from the skin's surface temperature. This patented technology ensures the best possible result in every treatment session, despite individual differences in people.
eCabin is 100% cooled electrically.
The eCabin actively adjusts the treatment based on skin temperature.  Using the eCabin, the whole body is evenly cooled efficiently.  Thermal imaging examples are available, to show just how effective the eCbain is, compared to Liquid Nitrogen cooled chambers.
Different immersive experiences available.  Combined superwide 88" (in total) curved upper screen and HiFI speakers included for the "audience".
Benefits of Cryotherapy
Reduces inflammation
Pain relief
Improved skin health
Increased energy levels
Improved athletic performance
Boosted immune system
Reduced stress levels
"The only thing that stands between you and your dream is the will to try, and the belief that it is actually possible."
What are you waiting for?
Call today and come see your new gym!
720-300-3929