Everyting you need, to succeed.
One location, all the services you need for health & wellness, training & recovery.
Top talent, technology & equipment provides an advanced, effective, efficient experience.

ELEVATED ENERGY, RECOVERY & PERFORMANCE

IMMUNE SUPPORT / MOMENTUM

BOOSTED MOOD / PAIN RELIEF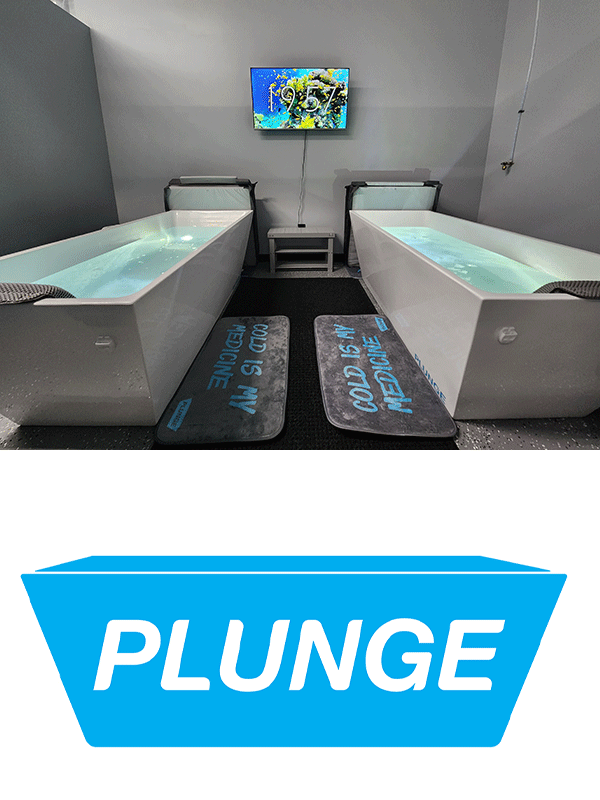 We LOVE our cold plunge, and we know you will too!
What is an Ice Bath?
Ice baths or cold-water immersion is when you plunge your body in a tub of cold water as a recovery and health regimen. Ice baths are becoming an increasingly popular ritual for athletes and exercise fanatics. The revolutionary Cold Plunge uses sanitation (Hydrogen Peroxide), filtration (Ozone), and powerful cooling to create the perfect conditions for an effective ice bath.
Cold Plunge Protocol?
Temperature: The recommended temperature for an ice bath is from 39-60 degrees Fahrenheit – a temperature cold enough to chill your body but not to the freezing point. (So cold, that all you want to do is get out, but you still remain safe.) If you need to start in the upper 50's or 60 to get adjusted, feel free to do that. It's probably a good idea even if you think you can handle colder.
Time: 2-10 minutes is recommended, starting with just a few minutes and working your way up. Current research shows that 11 minutes of cumulative deliberate cold water immersion, per week, provides optimal benefits.
What is important, is that you choose a temperature and a duration, that will allow you to develop a daily or 3-4x times per week habit.
"If we always choose comfort, we never learn the deepest capabilities of our mind or body"
Wim "The Iceman" Hoff
What are you waiting for?
Call today and come see your new gym!
720-300-3929